MEC 8 Frame Shoring Systems
Shoring Scaffolding
SCAFIS MEC 8 is a shoring system that is created for use under slab tables. The system can be quickly adapted to accommodate different slab heights as well as being lowered for moving under large beams.
Be Safe and Fast While Erection and Dismantling
SCAFIS MEC 8 is one of the fastest, safest system for shoring. It is easy, it has only frames and diagonals on main structure. Easiest Shoring System to Erect and Dismantle. With only 3 frame heights and large spindle extensions, it is adjustable and easy.
High load-bearing capacity
When the tower completely erected, Scafis MEC 8 allows to be loaded up to 73 kN per standard.
The structural analysis of Scafis MEC 6 complies with EN 12812.
Large units easily moved
Vertically using the Lifting Fork, also horizontally with trolley
The MEC 8 is one of the most preferred shoring system for supporting the concrete before setting in formwork construction. The frames are welded perfectly for bearing heavy loads with supplement of adjustable head on the top and adjustable base jacks on the bottom.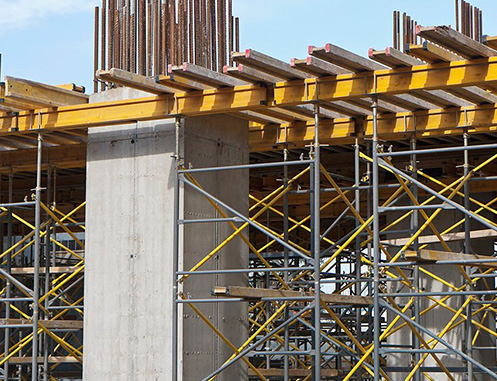 Scafis is like a neighbor to you. We are fast, we are technical, we are experienced, we are friendly, we are your partner and we are %100 motivated to find solutions to your needs.